Louvre roof systems, also known as open roof systems, have been rising in popularity over last few years. Due to Covid-19, many people are looking to utilise their outdoor space even more. So, how what is a louvre roof system and how does it work? Louvre roof systems are typically made up of powder coated aluminium which makes the overall structure lighter in weight and durable, making it suitable for harsh Australian weather conditions. The operation of a louvre roof system is similar to plantation shutter
How do they work?
In essence, louvre roof systems work similarly to plantation shutters. When fully closed, the louvres create an impenetrable barrier from the sun, wind and rain. The angle of the louvres can be adjusted to allow for different degrees of sunlight and ventilation. For example, if you want to maximise airflow on a hot day, you can open the louvres up to 45 degrees. Conversely, if you want to block out the sun completely, you can close the louvres to 0 degrees. There are also rain sensors available that will automatically close the louvres when it starts to rain.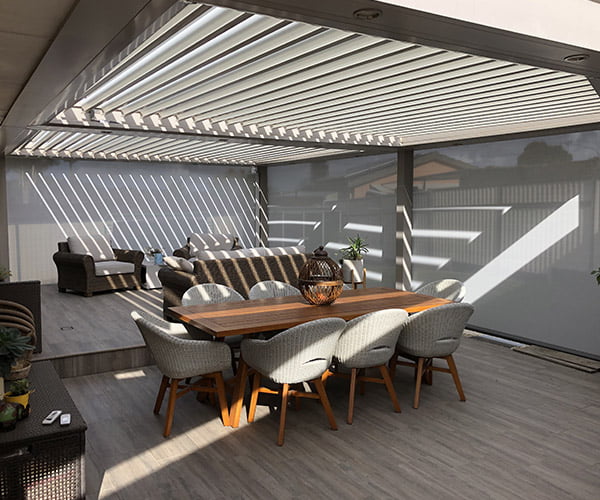 Gutter System
Louvre roof systems come with an integrated gutter system which is installed on all sides. The gutters catch the water when the louvres are fully closed. The collected rainwater is then drained through PVC pipes (concealed within posts) attached to the gutter, allowing you to drain the water at a suitable point (e.g. a storm water drainage pit)
The louvres can be opened and closed to control the amount of sunlight and ventilation in the space. When the louvres are open, air can flow freely through the space, keeping it cool. When the louvres are closed, they provide protection from sun and rain
Louvre roof systems are made from aluminium, so they're lightweight and durable. They're also low maintenance, so you don't have to worry about them rusting or rotting over time. Scott Dickson from Sola Shade ( https://solashade.com.au/louvred-pergola/ ) – an Australian manufacturer of those systems says, that "aluminium is the way to go these days".
Benefits of Louvre Roof Systems
There are many benefits that come with installing a louvre roof system. Firstly, they are much more versatile than traditional pergolas or gazebos because they can be used in both sunny and rainy weather. Secondly, because they are made out of aluminium, they are very low maintenance – all you need to do is give them a wipe down every now and then! Lastly, they add value to your home as they are a luxurious addition that will make your outdoor entertaining area stand out from the rest.
Louvre roof systems are a great way to utilise your outdoor space all year round. They are made from high quality materials that will stand the test of time and weather conditions, making them a wise investment for your home.